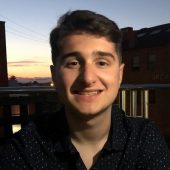 Hometown: Newburyport, MA
Major: Communication
Minors: Psychology & Sociology
Internship: Department of Education, Legislation & Congressional Affairs
Studied abroad?: Barcelona, Spain in high school
Favorite place on campus: I love ZSR Library – I like getting to sit somewhere new every time I'm there and seeing so many familiar faces.
Favorite WFU professor: Dr. Alessandra Von Burg (Communication) & Shelley Sizemore (Office of Civic & Community Engagement)
Favorite ways to spend free time: TV/Movies, reading, writing, exercising (running & tennis), anything with friends, playing with my 2 cats
Career/industry interests: Entertainment, education (teaching or policymaking)
If I had a superpower it would be: Anything magical – casting spells, controlling elements (like shooting water or fire from my hands)
What I'm most looking forward to this semester: Meeting new people and experiencing life in a new place! Wake is awesome, but the campus is a bit of a bubble, so I can't wait to experience life in an urban hub!