by Dr. Will Walldorf, Associate Professor of Politics & International Affairs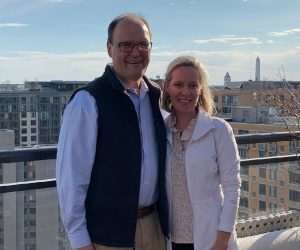 As a scholar who focuses primarily on U.S. foreign policy, grand strategy, and international security, I knew it would be interesting to be in Washington, D.C. for a semester, both for my students and myself. In reality, my time here has been far more than just "interesting." Teaching U.S. foreign policy and U.S. grand strategy in this particular semester against the backdrop of a major geopolitical crisis in Europe has been exhilarating, engaging, thought-provoking and, at times, exhausting. It has also led to several new streams of research with a colleague here at the Brookings Institution. In general, I would not trade the experience for the world!
As is the case in times like these in Washington, D.C., the news and debates about U.S. foreign policy have been nonstop. Our Friday speakers have all talked about Russia and Ukraine. Moreover, many of the students this semester, especially those interning on Capitol Hill, are getting first-hand experience dealing with constituents in a time of crisis and are working alongside policy experts debating and shaping U.S. policy in real time. All of this has made for fascinating classroom debates and conversations. As we have studied, for instance, different grand strategies – conservative internationalism, liberal internationalism, and restraint – the crisis in Ukraine has provided invaluable fodder for illustration of each and deepened student understanding of how U.S. grand strategy is made, in general.
One particularly fascinating class session came three weeks ago when my friend Emma Ashford, a Senior Fellow at the Atlantic Council, taught a class session on restraint in the U.S. grand strategy course. Emma is a Russia expert and has been on the frontlines of the public discussions in D.C. about the Ukrainian crisis. She visited the Reynolda campus two years ago as a guest of the International Security Project (ISP) and her talk then became the basis for an article in Foreign Affairs that students read prior to her visit to class here in D.C. Her visit this semester came just hours before Russia started its invasion of Ukraine. Great timing! Emma took us on a fascinating tour of the different grand strategic lines of debate around Ukraine today in Washington. It was a treat, one that students are still talking about, in fact.
Finally, my time in D.C. this semester has really demonstrated to me what a gem the Wake Washington Center (WWC) is for Wake Forest. Jennifer Richwine does an amazing job here, wearing more hats than one could imagine possible. This program is an invaluable asset for students interested in launching careers in Washington, D.C. and for those students who simply want to become better-informed citizens. Furthermore, what a great alumni network we have here – it's been fascinating to connect with former students. I look forward to going back to Wake Forest to create new synergies between ISP (which I am still working to develop) and WWC. Wake has a distinguished history of contributing to the foreign policy community in Washington, D.C. We've been treated to that this semester. I am excited about the ways WWC can help continue and expand that tradition through developing the next generation of strategic thinkers, which is especially important in these changing times.