Wake Washington: The Source From Which DC Deacdom Springs
Main Content
by Riley Mistrot ('19)
With a campus as physically stunning and lush with opportunity as Wake Forest, it's hard to consider what could be so compelling as to lure loyal Deacs away for a semester.
As someone who spent her final semester in the Wake Washington program, I posit that it is a worthy contender of this sacrifice and offers a unique set of opportunities that supplement the rich buffet the Reynolda campus offers.
In fact, two and a half years after graduating, I can attribute nearly every personal and professional experience I've had since then to my time in Wake Washington.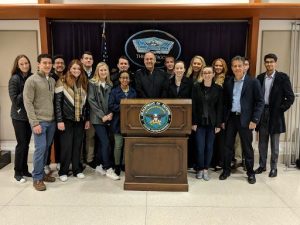 The shared experience of learning to balance full-time internships, evening classes, and the many extracurriculars DC has to offer forged enduring bonds of friendship among our tight knit cohort. We are proud that thirteen out of sixteen of us ended up in DC after graduation, and some of us even live together now!
Similarly, my internship at the American Enterprise Institute's Critical Threats Project has paid professional and personal dividends I could not have imagined when I applied for Wake Washington. It gave me the credibility of real-world experience to substantiate my academic interest in my career field. On the cusp of starting my dream job, I can confidently say my Wake Washington internship and coursework was a difference maker in my candidacy. Moreover, I met some of my best friends in the AEI intern bullpen, and two of us recently served as bridesmaids in another's wedding.
One of the best – and worst – things about Wake Washington is that it's the nicest housing students will live in in DC for a very long time. That said, living in the Wake Washington apartments acquainted me with the Mt. Vernon neighborhood, and I ended up signing a lease in a building owned by the same company a few blocks away where I still happily live today. Living nearby allowed me to tour the building in person, make an informed decision, and transition to a somewhat familiar environment amid all the other changes that come with starting post-grad life.
Another unique aspect of doing Wake Washington as a graduating senior is that I was able to directly carry forward the network that I was building into my next stage of life. Additionally, I was available to interview in-person for full-time jobs after graduation. Since DC is a town whose job market operates on being here, this was a huge advantage and saved me the uncertainty of taking the leap of faith of moving here unemployed.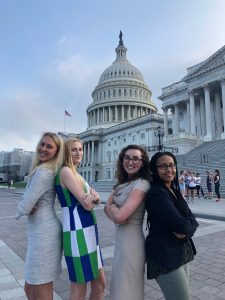 As I transition between my second and third jobs, I attribute both to my participation in Wake Washington. I replaced a fellow AEI intern in my current job at the National Security Innovation Network, and while our time at AEI did not overlap, we became friends through mutual coworkers, which just goes to show that the network one cultivates during Wake Washington has the potential to grow beyond the immediate connections made. Similarly, stepping into a new role as a government civilian, I have many, many Wake Forest alumni to thank for demystifying a byzantine process and giving me a blueprint for success. It's worth noting that many of these mentors were women who shared their expertise and made room for me at the table in a competitive, still male-dominated career field of national security. They reinforced my inclination to "grow the pie" and they are a testament to the strong Network of Women that make up the DC Alumni community.
Participating in Wake Washington also led to the opportunity to join and lead the DC Young Alumni Council. In this role, I'm able to engage directly with incoming Wake Washington cohorts by planning the orientation scavenger hunt (#neverforget the blizzard of Spring 2019!), as well as help create a community for Deacs new to the District. I'm grateful to be in a position to pay forward all the wisdom, mentorship, and advice that fellow Deacs offered me and to maintain my ties to Wake Forest.
In conclusion, Wake Washington holds the promise of an enriching academic program, meaningful internship opportunities, a successful and generous alumni community, and exhilarating secondary and tertiary benefits yet unknown, all powered by one of Wake Forest's greatest assets, THE Jennifer Richwine. All of this to say nothing of the sheer fabulousness of being in the Nation's Capital – with an unlimited Metro card – is the value of the Wake Washington program.
My life has been made richer in every regard because I chose to do Wake Washington. I am a better Demon Deacon for it and I would strongly encourage other Deacs who are interested in making a difference to consider making it a part of their Wake Forest experience. One never knows where the Black and Old Gold brick road may lead.